Success in BNI is directly tied to the Five Key Fundamentals of BNI Success. IT'S ALL ABOUT THE POWER OF ONE.
CONGRATULATIONS to the BNI California Capital Region members who finished Green or Yellow in March 2021 (50 or more points). You are directly contributing to the health of your chapter and the profitability of your chapter members!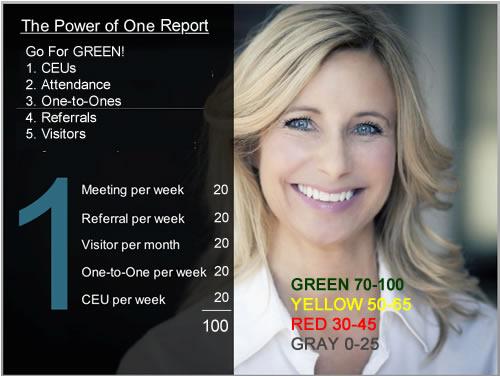 Each Power of One element is scored out of a maximum of 20 points.
1. CEUs (One hour = One CEU). There are easily 6 CEUs for completing the online MSP. Goal: Four CEUs / month
2. Attendance. Goal: 100%
3. One-to-ones. Goal: Four one-to-ones / month
4. Referrals. Goal: Four referrals / month
5. Visitors. Goal: One visitor / month
| | | |
| --- | --- | --- |
| Elk Grove Navigators | Katie Ferguson | 100 |
| East Sacramento Professional Network | Sam Alongi | 100 |
| Carmichael Entrepreneurs | Sue Lomolino (21) | 95 |
| Mountain High BNI | Carmen Carr (22) | 90 |
| Elk Grove Harvesters | Diana Martinez (23) | 85 |
| Auburn Gold Country Prospectors | Kitty Good (22) | 80 |
| Capital City | Hanni Caitham (12) | 80 |
| Capital City | Kathleen Clark (12) | 80 |
| Capital City | Tiffany Donohue (12) | 80 |
| Elk Grove Harvesters | Monica Patel NMLS # 570590 (23) | 80 |
| Extraordinaires | Karyn BarthMoore (22) | 80 |
| Folsom Business Partners | Claudia Crichton (24) | 80 |
| Folsom Business Partners | Jim Kaspari (24) | 80 |
| Placer County | ilene Martzen (22) | 80 |
| Elk Grove Navigators | Kerri Sanford (23) | 75 |
| Foothill Connections | Stefanie Thayer (23) | 75 |
| Riverside Executives | Sandra Swenson-Scott (22) | 75 |
| Rocklin Founders | Richard Strasser (23) | 75 |
| Tri-County BNI | N Shannon Guzzo (20) | 75 |
| Capital City | Matthew Brownell (12) | 70 |
| Foothill Connections | Rich Iacovetta (22) | 70 |
| Galt Business Partners | Ashlynn Mohan (6) | 70 |
| Riverside Executives | Rosehannah Hewitt (22) | 70 |
| Capital City | Caitlin Collins D.C. (12) | 65 |
| Capital City | Casey Croxford (12) | 65 |
| Capital City | Vasiliki (Kiki) Magnuson (12) | 65 |
| Elk Grove Harvesters | Sarah Mertyris (18) | 65 |
| Folsom Business Partners | Jacob Langley (24) | 65 |
| Foothill Connections | Samantha Siders (9) | 65 |
| Galt Business Partners | Kim Drago Rose (23) | 65 |
| Placer Business Network | Thomas Drzemala (23) | 65 |
| Riverside Executives | Tracie Hewitt (22) | 65 |
| Auburn Gold Country Prospectors | Corinne Lalanne (22) | 60 |
| Auburn Gold Country Prospectors | Tina Reynolds (22) | 60 |
| Carmichael Entrepreneurs | Terrelle Ballard Mitchell (21) | 60 |
| East Sacramento Professional Network | Joseph LeGrand (18) | 60 |
| Elk Grove Harvesters | Anitra Koski (18) | 60 |
| Elk Grove Navigators | Ken Henderson (23) | 60 |
| Elk Grove Rainmakers | Amy Parker (24) | 60 |
| Extraordinaires | Maribel Castro (22) | 60 |
| Foothill Connections | Angela Honoroff (23) | 60 |
| Foothill Connections | Samantha Studebaker (23) | 60 |
| Foothill Connections | Shara Langford (22) | 60 |
| Mountain High BNI | Sheri Gerber (21) | 60 |
| Riverside Executives | Jim Beilgard (22) | 60 |
| Tri-County BNI | David Young (20) | 60 |
| Arden | Chip Studley (22) | 55 |
| Auburn Gold Country Prospectors | Clare Hiatt, CFP, (18) | 55 |
| Capital City | Lauren Jones (12) | 55 |
| East Sacramento Professional Network | Damon West (21) | 55 |
| Elk Grove Harvesters | Christopher Mendes (23) | 55 |
| Elk Grove Harvesters | Connie E. Bosserman (23) | 55 |
| Elk Grove Rock Stars | Melonie San Filippo (23) | 55 |
| Extraordinaires | Michael Ewing (21) | 55 |
| Folsom Business Partners | Brittany Black (17) | 55 |
| Folsom Business Partners | Stacie Derencin (24) | 55 |
| Fountains Executives | Dennis Barnes (21) | 55 |
| Gold River Chapter | Rosie Beguhl (24) | 55 |
| Mountain High BNI | Michael Colpitts (22) | 55 |
| Mountain High BNI | Polly M. Ryan MA MFT (22) | 55 |
| Placer Business Network | Bryant Troupe (23) | 55 |
| Placer Business Network | Jake Hoffart (12) | 55 |
| Riverside Executives | Georgia Santangelo (22) | 55 |
| Riverside Executives | Samantha Landolt (22) | 55 |
| Sacramento Mid-Town | Chris Gibson (24) | 55 |
| Sacramento Mid-Town | Deanna Myerson (24) | 55 |
| Tri-County BNI | Clint Herndon (20) | 55 |
| Tri-County BNI | Terry Jensen (20) | 55 |
| Arden | Tami Fucci (22) | 50 |
| East Sacramento Professional Network | Dru Torvend (22) | 50 |
| Elk Grove Founders | Kathy Martinez (21) | 50 |
| Elk Grove Harvesters | Lester L Holmes (23) | 50 |
| Elk Grove Navigators | Chris Johnson (23) | 50 |
| Elk Grove Navigators | LauraJean Lawrence (22) | 50 |
| Elk Grove Navigators | Tiffany Casimere (7) | 50 |
| Elk Grove Rock Stars | Don Franklin (20) | 50 |
| Elk Grove Rock Stars | John Schenkenberger (23) | 50 |
| Extraordinaires | Jennifer Torres (10) | 50 |
| Extraordinaires | Stacy Flascher (22) | 50 |
| Folsom Business Partners | Rick Kraemer (24) | 50 |
| Foothill Connections | Matt Saia (23) | 50 |
| Foothill Connections | Robert Yoast (13) | 50 |
| Fountains Executives | Lori Boes (21) | 50 |
| Fountains Executives | Thomas Pippin (21) | 50 |
| Mountain High BNI | Elisa DiNallo (22) | 50 |
| Mountain High BNI | James Easterbrook (22) | 50 |
| Mountain High BNI | Trina Gold (22) | 50 |
| Riverside Executives | Brian Bentzen (22) | 50 |
| Sacramento Mid-Town | Daniel Lessard (12) | 50 |
| Sacramento Mid-Town | Jennifer Donchenko (24) | 50 |
| Sacramento Mid-Town | Misty Elmore (8) | 50 |
| Sactown Business Partners | Gagandeep Randhawa (22) | 50 |
| Tri-County BNI | Jennifer McCready (20) | 50 |
| Tri-County BNI | Ken Miller (20) | 50 |
| Tri-County BNI | Vijay Ambavanekar (18) | 50 |
Director Consultants and Ambassadors are bolded